December 4/17 7:56 am - Canada Finishes Milton World Cup with Fourth Medal

Posted by Editoress on 12/4/17

The third round of the 2017-18 Track World Cup concluded on Sunday in Milton, Canada, with six final titles awarded. Team Canada capped off a successful weekend of racing at their home Track World Cup with a fourth medal performance. The men's Team Pursuit squad fought back from a crash to capture the silver medal.

Round 3 of the Track World Cup was the first ever World Cup at the Mattamy Cycling Centre in Milton, and the first in Canada since 1998. Canada went into the final day of competition with thee medals already - a gold and two silvers.

The Team Pursuit squad of Michael Foley, Derek Gee, Adam Jamieson and Jay Lamoureux set a new Canadian record of 3:58.359 earlier in the day to qualify for the gold medal race, and were leading New Zealand by a second going into the final 1000 metres, when the second and third riders touched wheels, with Foley going down. The remaining three riders were able to regroup and finish with a remarkably strong time of 3:59.982; less than a second behind New Zealand.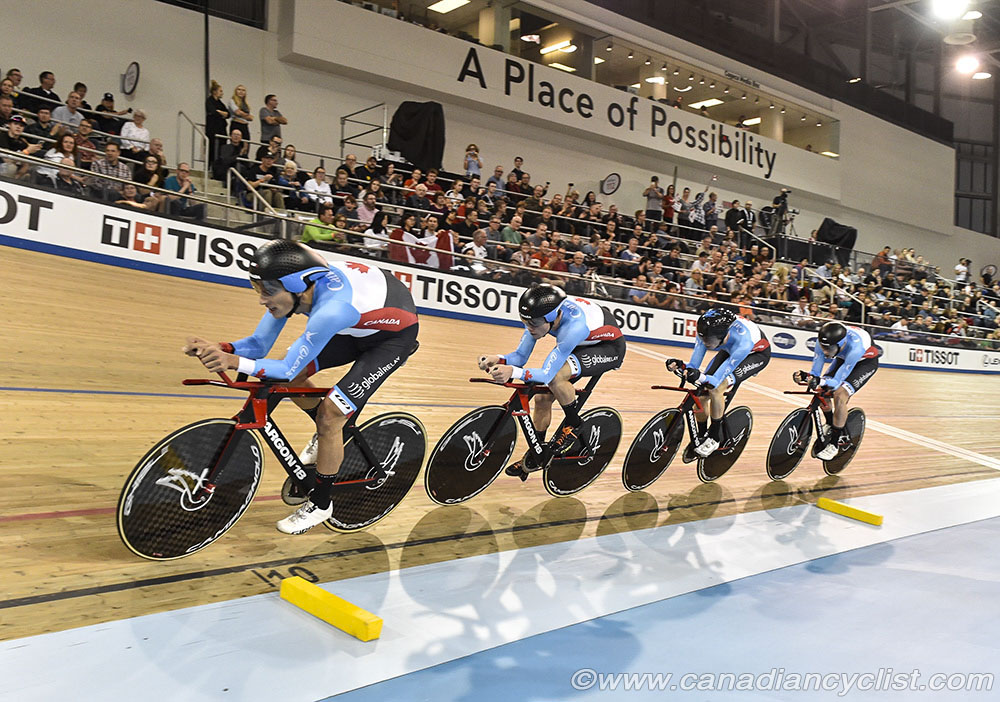 "We had an unfortunate mishap," said Lamoureux. "Our second rider [Jamieson] clipped a bumper and it shot his wheel up track, and then the third rider [Foley] clipped his wheel, and took a spill. Somehow we managed to get it back together and come out with a 3:59. The energy here is absolutely electric, and it fuels the riders in a way we don't see overseas. As we were riding around the track we could feel a wave of sound; it was absolutely spectacular."





Hugo Barrette came close to adding a fifth medal for Canada in the men's sprint, losing the bronze medal final to Great Britain's Jack Carlin after fighting his way through the draw to the medal rounds.

"All in all, I'm so happy," said Barrette. "I gave a good performance in front of the home crowd. Of course, I'm preparing for the Worlds, but when you see the crowd here, with your family and your friends ... everyone who supports you is here. So, I wanted to at least give it a shot at the win, and I think I did. The speed is there, but I have to build it so I can do more efforts; the day I can do many efforts like today I'm pretty sure I will be able to win any race."





In the women's Madison, the Canadian team of Steph Roorda and Jasmin Duehring also finished just off the podium in fourth place. Katey Archibald (Great Britain) took her second title in Milton, with a win in the women's Madison, joined by team mate Eleanor Dickinson. The pair scored in all but one intermediate sprint, and won five out of eight. France took silver and New Zealand bronze.

"I think we were initially disappointed to be out of the medals; that's what we always shoot for. But Madison is a brand new event for us - Jasmin and I had done one training session together, so given that we didn't have the most ideal preparation, I think we came out pretty well. we have lots to learn, and this is a stepping stone to the world championships."

The final two Canadian competitors for the day, Amelia Walsh in the women's Keirin and Aidan Caves in the men's Omnium both finished tenth overall in the their respective events. Caves had a strong finish in the final event, the Points Race, winning that event. For Walsh it was her first ever experience at the World Cup level in the Keirin.

"I surprised myself a bit today in the Keirin," said Walsh. "I managed to switch off and go back to my BMX roots. I had a lot of fun, even though coming in, it wasn't my most favoured event. I've only raced it twice, but I really liked it. I gave it everything in the semi-final, but it didn't quite happen."





"Looking back at this past weekend, it was great that we were able to put on a great show for our home crowd!" said Jacques Landry, Chief Technical Officer for Cycling Canada. "Even though our performance peaks are planned for the World Championships in a couple of months time, we managed to get some great podium performances; in part due to the support of the cheering fans. Of special mention, is the silver medal winning performance of our men's team pursuit squad, and the debut in the lineup of young local Milton talent Michael Foley, who despite a crash in the final for gold, certainly lifted the team by his presence in the squad. I feel the results here will help re-energize our program as we set our sights on the world championships in Apeldoorn [Netherlands], at the end of February."