December 29/17 11:48 am - Beveridge, Chernove, Dal-Cin & Woods Top 2017 Canadian Cyclist Awards

Posted by Editoress on 12/29/17

The 21st edition of the Canadian Cyclist of the Year awards saw three newcomers and one repeat winner for 2017, in these Peoples Choice awards. Three-time national champion Allison Beveridge of Calgary, Alberta, was chosen as the Female athlete of 2016, while Top-10 Vuelta a Espana winner Mike Woods of Gatineau, Quebec, is the Male cyclist and five time world champion Tristen Chernove of Cranbrook, BC, took the Para award. Matteo Dal-Cin of Ottawa, Ontario, won the Best Individual Performance award for his win at the National Road Championships.

The Canadian Cyclist Awards are the oldest and most recognized cycling awards in Canada, voted on by thousands of cycling enthusiasts from across Canada and around the world. Voting took place between December 9th and 23rd.

Beveridge, a member of the Olympic bronze medal Team Pursuit squad in Rio, came back from pre-season surgery for a blood clot to have the best season of her career in 2017. A member of the U.S.-based Rally Cycling team, Beveridge sprinted to the national road title in June. On the track, the 24 year old won the national Omnium and Team Pursuit titles, and won three medals in World Cup competition - gold and silver in the Team Pursuit, and silver in the Omnium. Beveridge took 49.5% of first place votes cast, with Team Time Trial world champion Leah Kirchmann (Winnipeg, Manitoba) receiving 28% and Downhill world champion Miranda Miller (Squamish, BC) receiving 23%.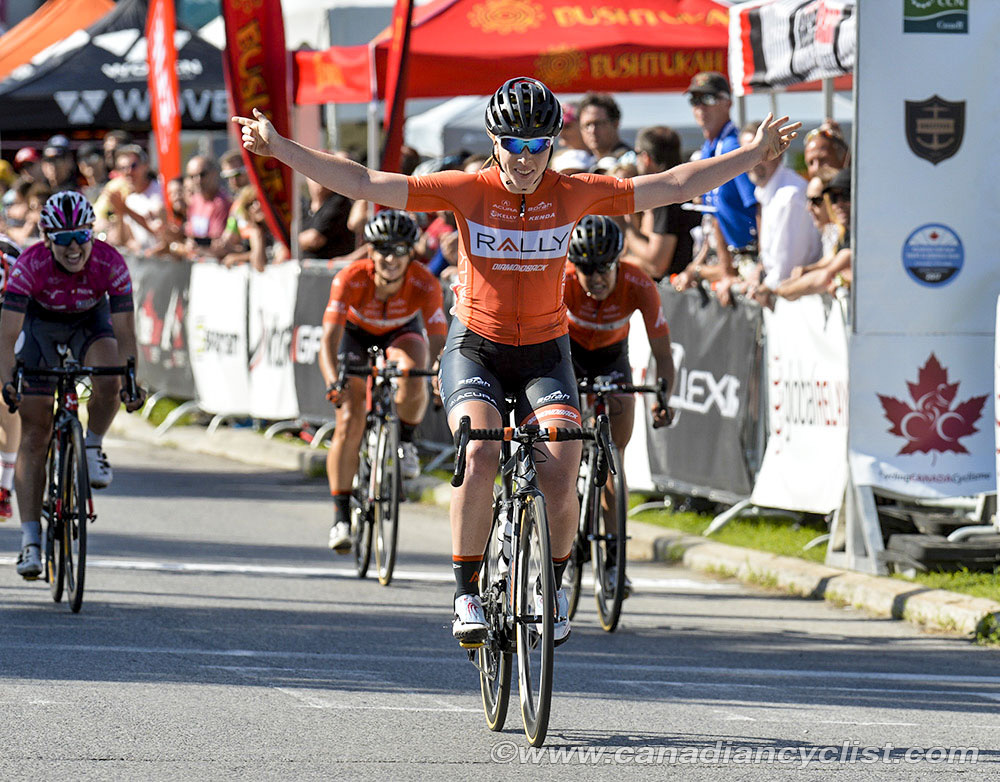 Allison Beveridge
"It's an honour to be chosen by the cycling community to be Female Canadian Cyclist of the Year," said Beveridge, "especially given the ever growing talent of female cyclists in Canada! 2017 was a comeback year for me following surgery, and it was a rough start, so this is confirmation that I'm making my way back to where I need to be. Thank you to everyone who voted, and to Rally Cycling and my Canadian track cycling family for getting me back on track! The support of the cycling community and the role that Canadian Cyclist plays in showcasing our sport is greatly appreciated! I know that Canadian cycling will continue to excel in 2018 and I look forward to (hopefully) being a part of that."

Mike Woods had a breakout year in 2017. One of only a handful of Canadian men to race at the WorldTour - the highest level of professional road racing - Woods began his season at Cannondale Drapac with a ninth place in Liege-Bastogne-Liege and 11th at Fleche Wallonne; two of the Spring Classics. In May, he finished fifth in Stages 6 and 8 of the Giro d'Italia (Tour of Italy), one of the Grand Tours of cycling. However, it was in September when he really shone, finishing seventh overall in the Vuelta a Espana (Tour of Spain), the final Grand Tour of the season - the best-ever result for a Canadian at this race. He also finished third on Stage 9, and is the only Canadian to make the top-100 in the world rankings. Woods took 43% of first place votes cast, with national road champion Matteo Dal-Cin (Ottawa, Ontario) receiving 30% and Tour of Utah champion Rob Britton (Regina, Saskatchewan) receiving 17%.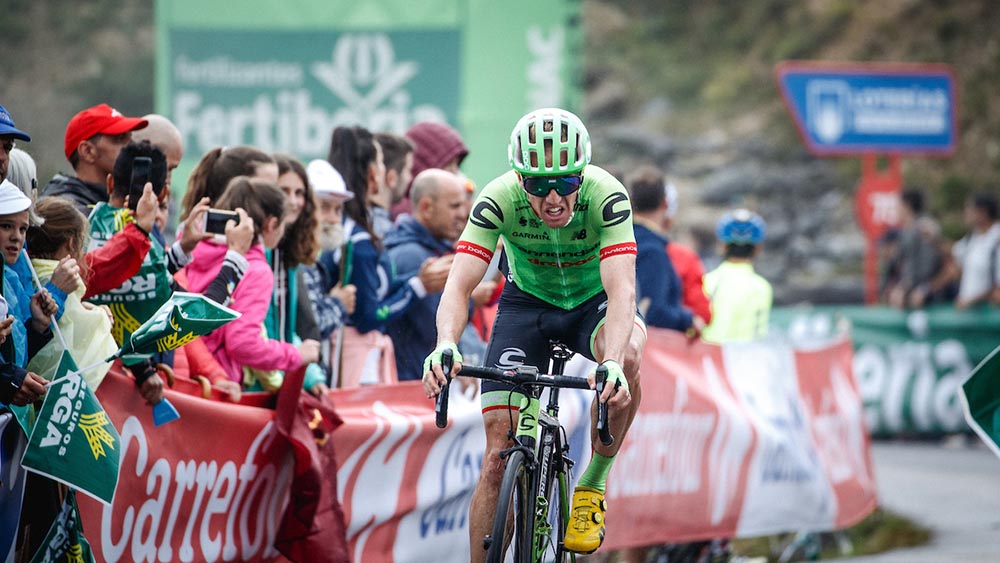 Mike Woods
"It is an honour to be selected as Male Canadian Cyclist of the Year," said Woods, who is already preparing for the 2018 season. "I know that this title is voted on by fans spread throughout Canada, which makes this that much more special. 2017 was a great year for me, and I could not have had that success without the help and support of my wife, my family and friends, my coach Paulo Saldanha, my team (Cannondale-Drapac), and B2Ten. Much love to everyone and Happy New Year!"

Last year, Tristen Chernove became the first Canadian Cyclist of the Year in the new Para category after winning gold, silver and bronze medals at the Paralympic Games in Rio de Janeiro. He didn't slow down in 2017, winning an incredible five world championship titles - two on the road and three on the track. Chernove is currently ranked Number 1 in the world for both road and track for his C2 category. Chernove received 55% of first placed ballots cast, followed by Shelley Gautier (Toronto, Ontario), a two-time world champion on the road in the T1 category, and Ross Wilson (Edmonton, Alberta), a three-time track world champion in the C1 category, both with 18%.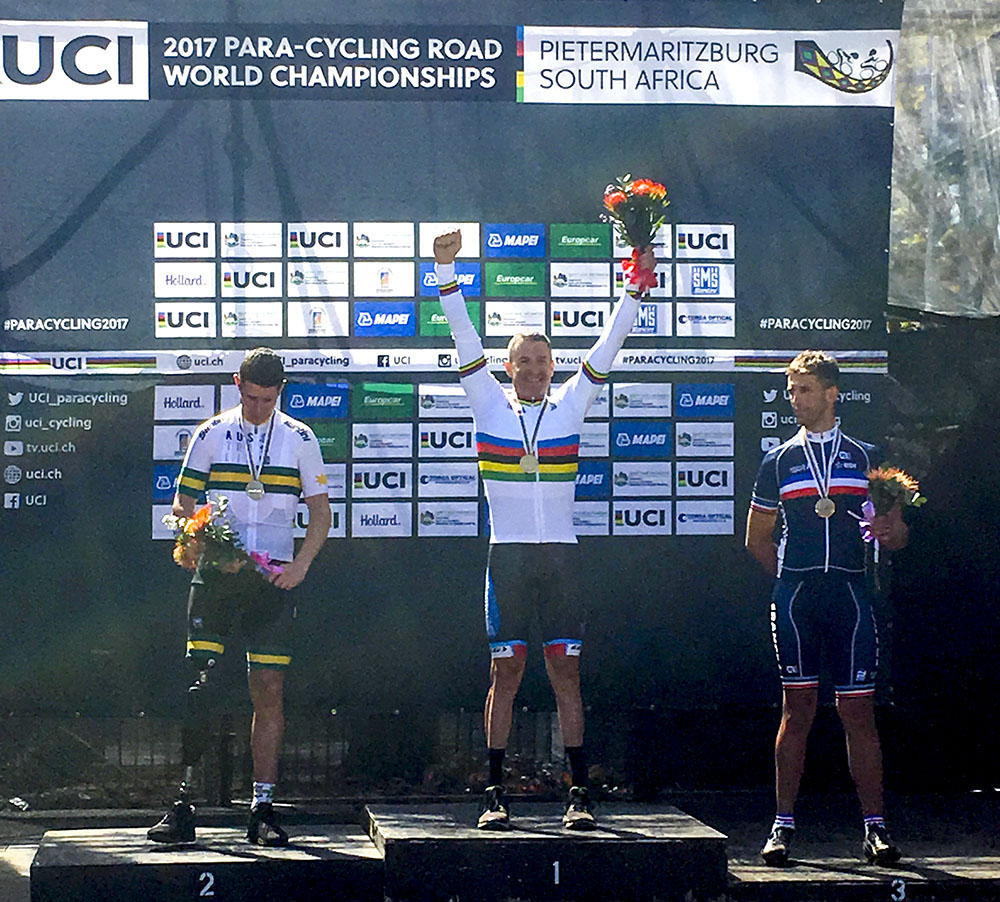 Tristen Chernove
Canadian cyclists had a strong year in 2017, and voters had ten performances to chose from in the Best Individual Performance category, in disciplines ranging from Road to Para, Cyclo-cross, Downhill and Cross-country Mountain Bike. In the end, Matteo Dal-Cin of Ottawa, who races for Rally Cycling, was the top vote-getter for his national title win in the men's road race, in his home town, coming a year after he crashed in the final corner while in the lead. Dal-Cin won with 17% of first place votes, just ahead of Team Time Trial world champion Leah Kirchmann (Winnipeg, Manitoba) at 14% and Tour of Utah winner Rob Britton (Regina, Saskatchewan) at 13%.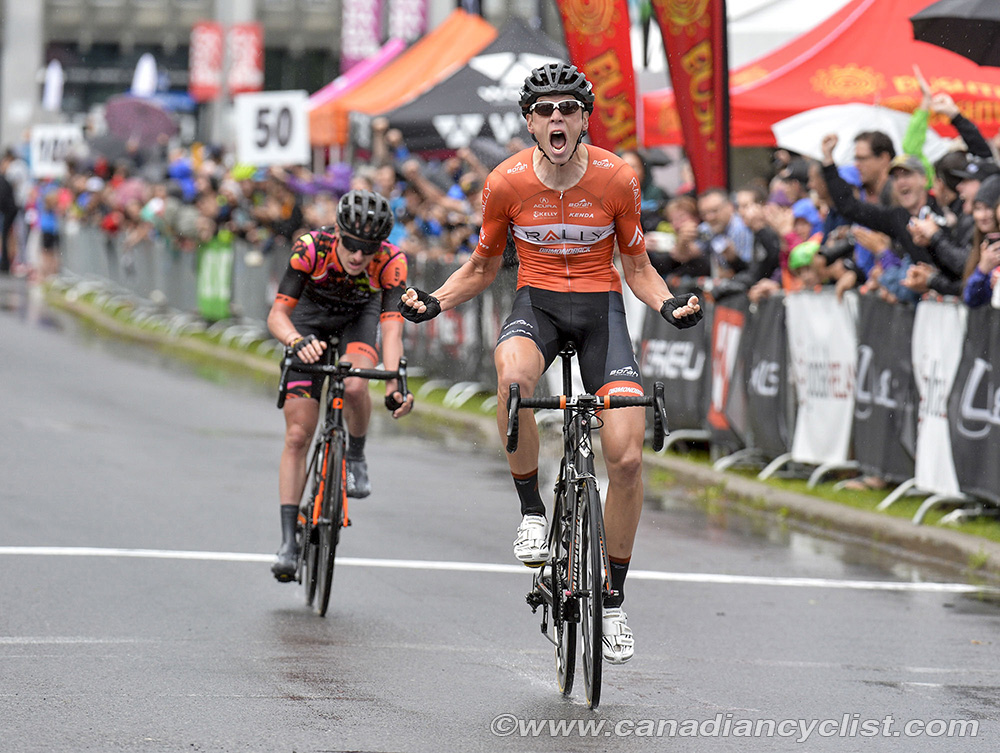 Matteo Dal-Cin
"It's an honour to have my ride recognized as one of the best performances, with so many other people doing amazing rides this season," said Dal-Cin. "Thanks so much to everyone who voted for me in recognizing my ride! I'm sure my Mom was on there voting non-stop."